Your swimming pool is a value add to your property. Ensuring that you can make the best use of the feature and that it stays in good condition for a long time involves regular maintenance. In addition to regular cleaning, the plastering and all other elements need to be in good condition. It's the best way to keep it as good as new for many years.

Since there are many different services required as part of swimming pool upgrades, repairs etc. you need the services of a company like ours that would be able to provide you to a range of services under a single roof.

Premier Pool Plastering is a leading company in this industry. For almost 10 years, we have provided the best custom pool design and renovation services to clients in South Florida, No matter how big or small your job, we are the company that can help you upgrade your swimming pool in the best possible way. We offer a comprehensive range of services, including: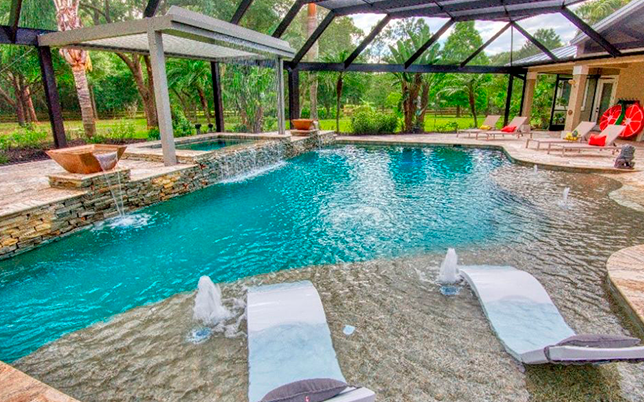 CUSTOM POOL DESIGNS
NEW POOL SPA PLASTER
NEW POOL/SPA PLASTER
CUSTOM POOL DESIGNS
When it comes to the aesthetic appeal of your residential swimming pool, you need to have creative designers handling the pool design aspect. We provide you with custom pool designs and work with you so that you get that kind of features and installations that will enhance the appeal of your property. We work very systematically, use the best equipment in our work and complete the construction to industry standards. The focus is on ensuring that every feature is designed in line with your requirements and budget.
NEW POOL SPA PLASTER
NEW POOL/SPA PLASTER
Patio Covers
A patio cover will enhance the beauty of your home and offer protection from the elements. An insulated cover dramatically lowers the temperature underneath the cover. Patio cover panels ordered through Best Florida Builders LLC, Windows, Doors & Siding come with a twenty-year warranty that covers paint, peeling, chipping, fading, or discoloration. 
Mason Patio Covers add beautiful space for outdoor entertaining. All roof components are made from aluminum and steel. Each component is custom cut to the exact size that you need. Mason Patio Covers are rugged, weather tight, and feature a baked-on polyester finish, which requires little maintenance.
Patio Cover Roofs can handle snow loads for the harshest winters and the hottest of climates. They come with our standard lock seam post and beam construction, complete with gutter and downspouts. The downspouts can handle twenty gallons of water per minute with no overflow problems.
Patio Sliding Doors
Sliding patio screen doors are available in different styles and can be custom sized. We offer heavy-duty sliding screen doors with fiberglass or aluminum screens and adjustable steel bearing wheels. Each door is strong yet easy to operate. When you need sliding patio screen door replacement, you can depend on Best Florida Builders LLC Screen Service to complete the job quickly and professionally, improving your comfort, peace-of-mind, and security.
With a sliding patio screen door, there are many perks that extend the convenience and function of your home, such as:
Ease of access to your outdoor space
Improved ventilation throughout your home
Increased security with a protective barrier and durable locking mechanism
Colors and designs match your home's style
Durable, long-lasting aluminum frames
Dust and pollen kept out
Minimal space needed for installation and use.